Application of High-precision Current Sensor in Efficiency Test of Photovoltaic Inverter
Views : 58
Update time : 2021-12-21 12:30:34
As one of the core components of photovoltaic power generation system, the performance of photovoltaic inverter directly affects the power generation efficiency of photovoltaic system. To ensure the efficient and stable operation of the inverter, the efficiency of the photovoltaic inverter before leaving the factory need to be tested.
Photovoltaic inverters can convert variable DC voltage generated by photovoltaic solar panels into AC power at mains frequency, which can be fed back to commercial power transmission systems or used by off-grid power grids. The photovoltaic inverter is one of the important system balances in the photovoltaic array system, and it can be used with general AC power supply equipment.
Before leaving the factory, photovoltaic inverters must be tested for efficiency to ensure the working efficiency of the inverter. The efficiency test of the photovoltaic inverter only requires basic electrical parameter tests on the input and output terminals of the inverter. Production line testing based on photovoltaic inverters pays attention to the needs of test stability and cost. In the test combination scheme, HANGZHI high-precision current sensors and power analyzers are used together to measure the output parameters of photovoltaic inverters, such as current, voltage, power, power factor, harmonic components of various orders and total harmonic distortion, etc. HANGZHI high-current sensor with an accuracy of up to 50ppm helps solve the problem of high-current high-precision testing.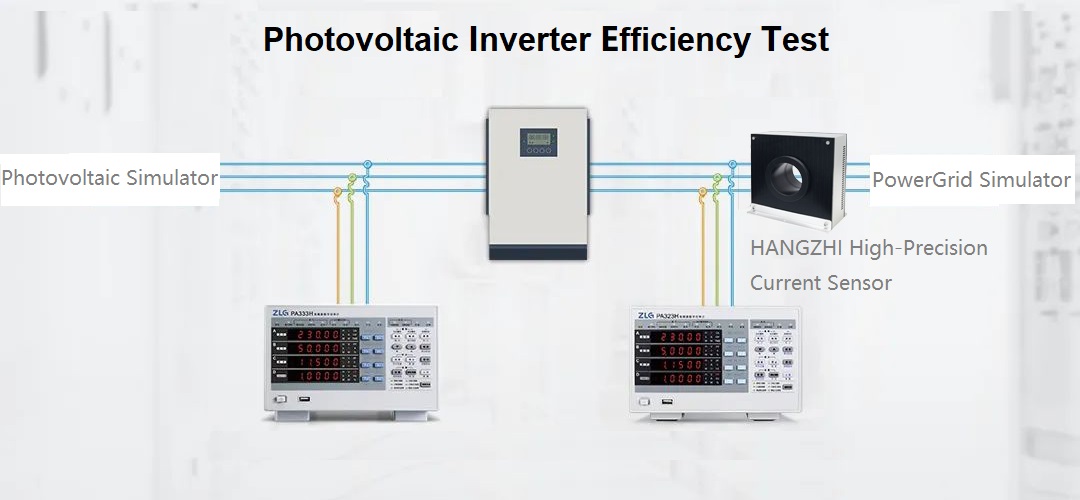 Technical parameters of HANGZHI high-precision current sensor:
Product model: AIT2000-SG
The effective value of the rated current of the primary side: ±2000A
Overload capacity: ±±2200A
Rated signal of secondary side: 1000mA
Accuracy: 50ppm
Power supply voltage (±5%): 220V
Aperture (mm): 50
Bandwidth (kHz): 300